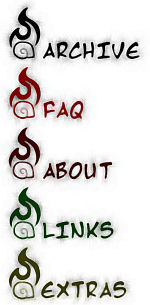 For now we will just give you the facts. Nothing more.
Manuel The Wonder Snail is a sprite comic by J. L. Grant, the artist for Two Lumps.
The webpage is created and maintained by Mel Hynes, his wife and partner in webcomics.
Manuel will update every single day, seven days a week, rain or shine, without fail.
And it will be the greatest sprite comic you will ever read.



J. L. Grant has been creating webcomics since 1998. His works include FLEM Comics, Two Lumps, and various real life creations as well. He is the author of two novels, one short story anthology and his fiction has appeared in places. He enjoys video games, firing guns with his wife and daughter, cooking barbecued brisket and throwing eggs at government officials. He lives in Dallas, Texas and likes describing himself in the third person.
June 16, 2014
Happy birthday to me! Just felt like saying that. ;)
In comics news: BOOK 10 IS OUT! Chock-full of all the last year's goodness, along with the usual annotations and backstory by myself and J. Extras: Intro by Hugo-award-winning, filk-owning, general BAMF Seanan McGuire, as well as a reprint of the first collaboration J and I ever did: Timmy Kat (a children's book that is not safe for children). Grab yours today!
In other news: We will once again be at COMIC-CON SAN DIEGO! Come see us at booth 1230, directly across from TopatoCo, under the Webcomics banner. We will have books, sketches, original art, the last of the Gen2 stuffies, witty repartee, and possibly a new shirt! Come say hi, get a doodle, and laugh at our sleep deprivation!
In other-other news: Merch re-shipment is almost entirely caught up! A couple of duplicates have been reported. If you get one, please just mark it "return to sender" and drop it back in the mail.
ALSO: We've had some inquiries about ordering previous years' books, as they're currently listed on Amazon at astronomical prices. Rest assured, we are working our way back through the archives and reformatting previous years to be available on our new publisher as fast as we can, while still putting out the new volumes and keeping our day jobs. ;) All previous year books WILL be available at regular price soon (hopefully before the end of the year), it's just a time-intensive process and we don't want to break J entirely.